Plaque Mounts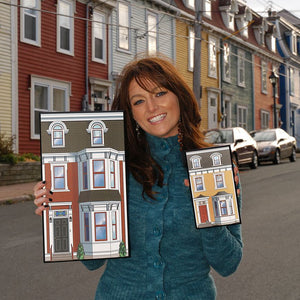 Jellybean Row plaque-mounted pieces are based on real houses on some of the oldest streets in North America. They are available in two sizes: small, each house measuring 5" by 8", and large, measuring 10" by 16". Our plaque mounts are printed right here in our studio, using the dye sublimation heat press process, which creates exquisitely sharp detail and colours that really pop. The small pieces make nice accents but they don't cover a lot of wall space – if you really want to make a statement, we recommend the large plaque mounts (or even our stretched canvas pieces, which range from big to bigger). 
Our two top-selling pieces – the ones most purchased first to start their collections – are Cochrane Yellow and Victoria Red. After that, Victoria Moss Green, Military Harbour Blue, New Gower Turquoise, Bates Hill Heritage Red and Church Hill Blueberry are quite popular. 
Not surprisingly, our most popular pieces are those with the brightest colours and bay windows, which have a three-dimensional look achieved through use of line and shadow. For this reason, bay windows are usually prominent on the first few pieces purchased. Once you've collected four or more pieces, to add visual interest and give the eye a place to "land," we suggest you start including houses with no bay window, such as Patrick Orange, or with no roof, such as Howley Green. 
You can hang the pieces as you like, whether horizontal (level) or diagonal (uphill), and you can place them tightly together or space them out. (Hint: they work especially well on the diagonal, in stairwells.) We recommend hanging the plaque mounts tightly together, to create a seamless row of houses. (For the stretched canvas, we suggest spacing them a few inches apart to better display the sidewall.)
Here's another great thing about our plaque mounted and stretched canvas pieces: they arrive ready to hang. There is no extra cost for framing and no wall space wasted on matte and frame.
Also, the Howley Green, Fleming White and Bond Pink houses, when placed in that order, make a rather artful and subtle recreation of the old Republic of Newfoundland flag – the "pink, white and green." If you're patriotic with an independent streak, this is a tasteful way to affirm that.
Plaque Mounts