Stretched Canvas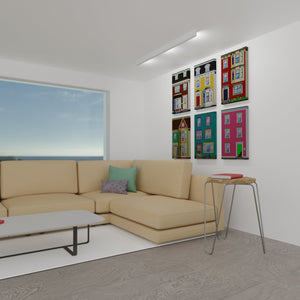 If you have a lot of wall space to fill, stretched canvas is the ideal solution. 
Stretched canvas is the most elegant and unique addition to our product line. You've never seen the medium used this effectively. The two-inch sidewall on the gallery wrap shows the side of the house and enhances the 3D effect already achieved using line and shadow. These pieces literally pop from your wall! Is there a space in your home - over the mantle, above the couch, in the foyer or stairwell - that still needs that special 'something'? If so, we have the perfect solution.
Our canvas pieces are available in three sizes: small (10" wide by 16" high), medium (15" wide by 24" high) and large (20" wide by 32" high). Think about that: three large canvas pieces can span an area larger than most framed artworks; four pieces are as wide as your average couch. And if the space is especially deep - such as a double-story wall between a split staircase, you can stack the pieces (as shown in the photo on top of this section). And, because you can add one or two new pieces every year (a great gift idea for Christmas and birthdays) you don't need to break the bank to build your collection.
 Prices range from $150 each for the small to $250 for the large. The large are by far the best buy, at $250 for 640 square inches, versus $150 for 160 square inches in the small. That's four times the real estate, for less than double the price. If you are unsure of what size you need for your intended wall space, it's better - and more economical - to go big. We have never had a customer come back and complain that the pieces were too big for their space. It just doesn't happen.
 With 19 house designs to choose from, the full range of styles and colours can be a bit overwhelming. We can help with that. Start by looking at our four most popular pieces: Victoria Moss Green, Cochrane Yellow, Military Harbour Blue and Victoria Red. They present the perfect combination of architecture and colour variety. Swap a few pieces in and out. Take your time and do some grazing. But there is a good chance you will come back to these four pieces.
 Also, be sure to check our canvas/plaque combos, which have an even more pronounced 3D effect. They are available in the 10" X 16" and 15" X 24" sizes.
 Happy browsing, and welcome to the neighbourhood!
Stretched Canvas