Christmas Plaque Mounts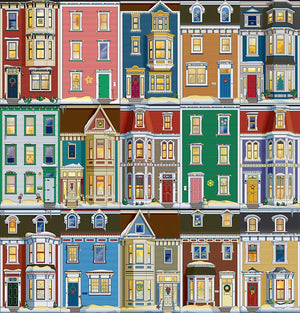 Jellybean Row is the only home décor line that actually changes with the seasons! Sixteen of our pieces have been redesigned especially for the holiday season. 
We've added snow, lights, decorations and a subtle dusk light that brings out the warm glow of an old-fashioned Christmas. When properly lit, the windows glow as if powered from within. For this reason, we suggest hanging the Christmas pieces under direct lighting. It instantly, almost magically, changes the look of a room.
As lovely as these pieces are, if you are beginning a new Jellybean Row collection we suggest you start with the Original Series, which you can leave up all year round. Later, you can add matching (or different) houses from the Christmas Collection and change them out as the season changes. Because of their warm look, the Christmas pieces can stay up for the entire winter, which is, like, six months in Newfoundland and Labrador! Then again, if you are gone mad over Christmas, you can keep them up all year round. Some people do! It's entirely up to you.
Because of the contrasting light values in each collection, we don't recommend hanging the Original and Christmas series together. Then again, some people do! It's always up to you.
Our plaque mounts come in two sizes: 5" X 8", which are $25 each, and 10" X 16", which are $60 each. Discounts are applied automatically if you buy four or more pieces. Plaque mounts are printed right in our studio using the dye sublimation process, which produces vivid colour and sharp detail.
Click each house for more information about the design, and to place your order. 
Christmas Plaque Mounts